It is now time to establish connection with your Android device. Please follow the on-screen instructions.
If you've done everything correctly, you should be able to see the Access Request dialog window. This message will be shown each time a new (previously unused) Android device tries to establish connection. The purpose of the dialog is to to prevent any unauthorized synchronization attempts.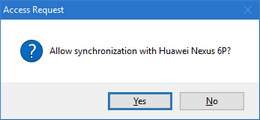 Click Yes and you will be automatically redirected to the last step of the Wizard.
Note if you're unable to establish connection, please see the Troubleshooting guide for possible solution.