You may wish to skip the Wizard and set synchronization up from the main program's window.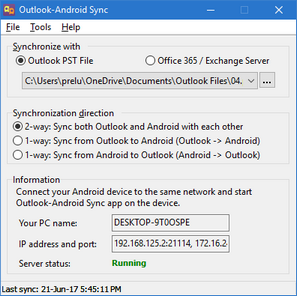 How to set up synchronization:
1.Select either Outlook PST file or Office 365 / Exchange Sever profile for synchronization.
2.Choose sync direction.
3.Open Outlook-Android Sync app on your Android device, wait till it finds your PC (usually takes about 2 seconds) and tap on the found computer's name. Alternatively, you can tap on Menu and choose the Connect manually option.
4.If this is the first time you synchronize with a particular Android device, there will be the Access Request dialog window shown in order to prevent any unauthorized synchronization attempts. Answer yes and synchronization will start (Calendar, tasks, notes and contacts data will be synchronized. If you wish to adjust which data to synchronize, please visit Options).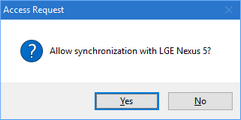 On subsequent synchronizations, to start the synchronization process, you need to:
1.Start Windows version of Outlook-Android Sync.
2.Start Android version of Outlook-Android Sync and either tap your computer's name (if you're within the same network) or tap on Menu and choose Connect manually (if you're going to sync over cellular network, Bluetooth or USB cable).