EZDupeRemover
No matter how many different types of items there are in your Outlook, EZDupeRemover provides an easy and convenient way to always keep your data clean by checking for and removing duplicates.
Main Features
Ability to check for duplicates through all set of folders you have in Outlook
Preview window with full info about duplicates
Advanced selectable comparison options for each type of items
Ability to manually check and adjust items set for removal
Automatic detection of older items and setting them as candidates for removal
Screenshots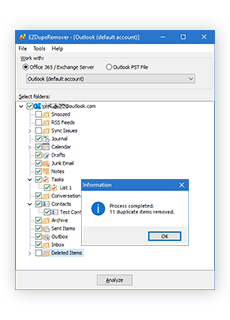 Main Window
Shows structured Outlook data and allows you to select folders to be analyzed for duplicate items.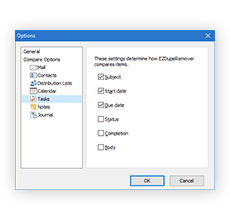 Comparison Options
Adjust the comparison options the way you wish. Note, the default set of options is considered to be sufficient in most cases.
Get started with EZDupeRemover
You will be able purchase the license at any time during the 30-day free trial period.
Supported Outlook versions:
2007, 2010, 2013, 2016, 2019, Outlook 365.
Pricing
The EZDupeRemover license includes:
Unlimited number of duplicate scans
Priority lifetime support services
Unconditional 30 days money back guarantee
The license allows you to keep version you purchased forever. In addition, you are entitled to free updates during one year since purchase date
Renewal Options
If you already own a license and wish to renew it.