Features
Your Outlook and Android data synchronized. Anytime. Anywhere.
We offer complete synchronization solution that allows you to always stay up to date with the latest changes on either of the platforms.
List of Features
Multi-Directional Sync
Complete bi-directional or single direction fast and safe synchronization of your Outlook and Android data through a user-friendly wizard.
Secure Direct Sync
No cloud or third-party solution required for secure and direct synchronization over Wi-Fi, cellular networks (4G, 5G), Bluetooth or USB cable.
Sync All Types of Data
Convenient sync of Outlook data with native Android Calendar and Contacts apps and with built into the Android version of OAS Tasks and Notes modules.
Full Flexibility
Ability to choose which types of data to sync with Android and from which Outlook folders.
Maximum Compatibility
Full mirroring (including colors) of Outlook categories with Android calendars and contact groups.
Administration
Keep personal and business data separate, choose which Outlook and Android accounts to synchronize data between.
How Outlook-Android Sync Works
Android version of OAS connects to the Windows version of the software. The Windows version gets data from Outlook, compares it with the one it got from Android and makes necessary changes to it. Then Windows OAS writes changes to Outlook and at the same time sends the adjusted data back to Android. Android OAS gets the changes and updates data on Android.
All synchronizations are bi-directional and happen in both directions by default, unless chosen otherwise in options.
Discover Outlook-Android Sync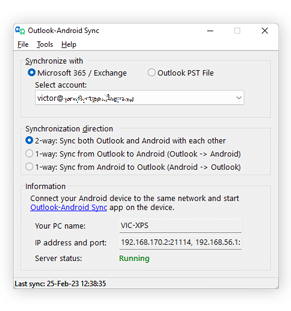 Main Window
Allows you to choose Outlook profile as a sync source and set up sync direction. Also shows the PC name, its IP address and port number to be used for establishing connection.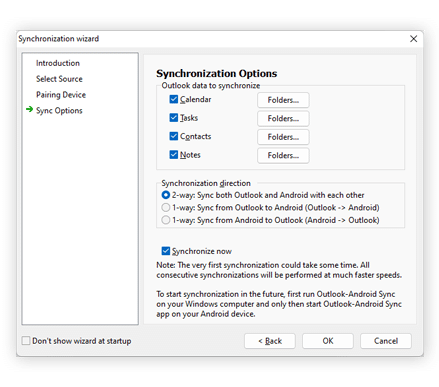 Sync Wizard
Will guide you through the process of establishing initial Windows-Android connection and running synchronization for the first time.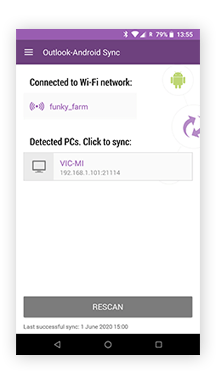 Main Window
Shows the list of detected PCs and offers the rescan option. Also allows you to use the Connect manually feature for synchronization via cellular networks (4G, 5G), Bluetooth or a USB cable.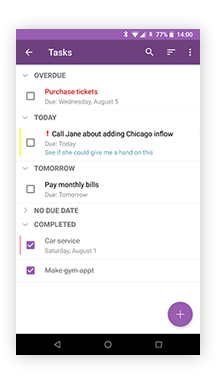 Tasks
The module allows you to work with tasks on your device (add, edit, delete, mark as complete, etc.) and sync them with tasks from Outlook.
Start Now
Get your Outlook and Android data identical with Outlook-Android Sync.